The American Flyer Bluegrass Band
Westchester County, N.Y.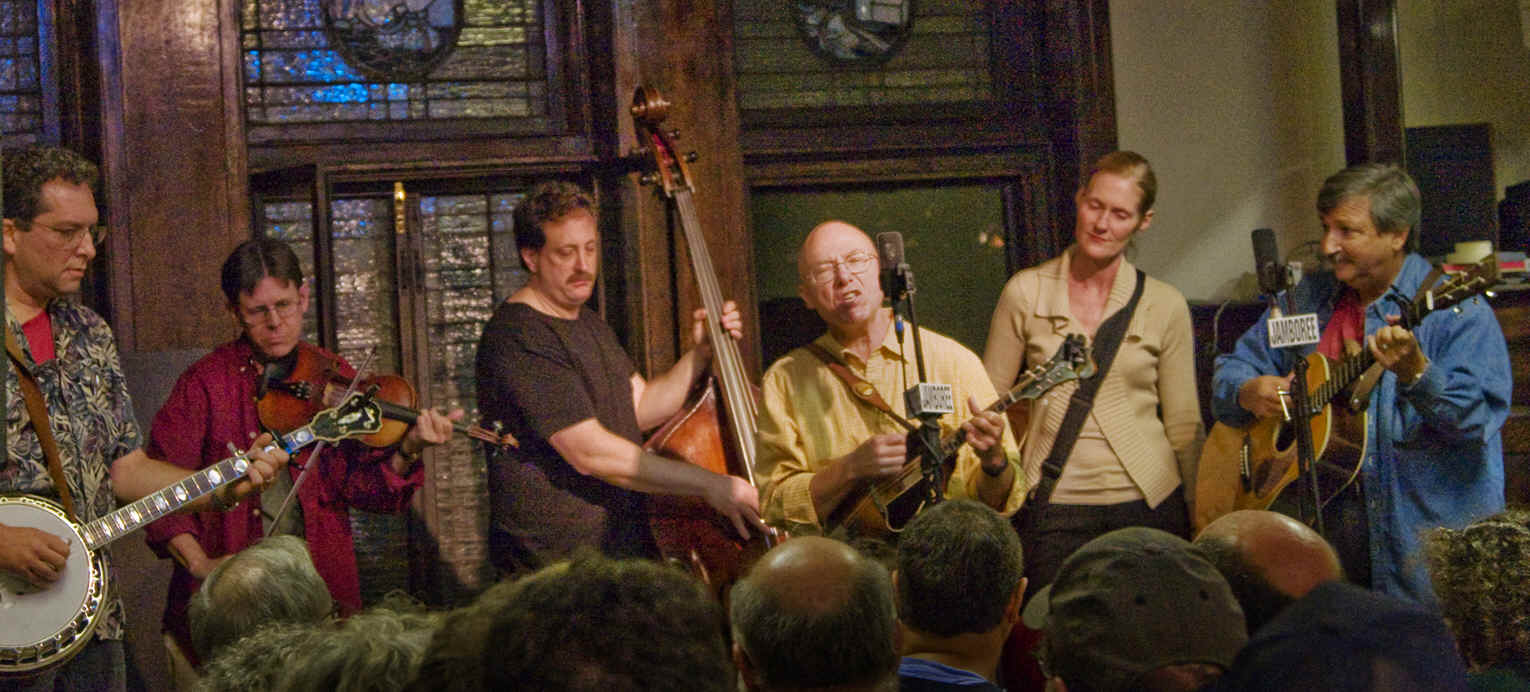 Listen Now.....
The band:
Bill Christophersen, fiddle; Ben Freed, banjo; Debra Griner, guitar; Ethan Kende, bass;
Gene Yellen, guitar; Phil Zimmerman, mandolin
for booking/information benfreed@optonline.net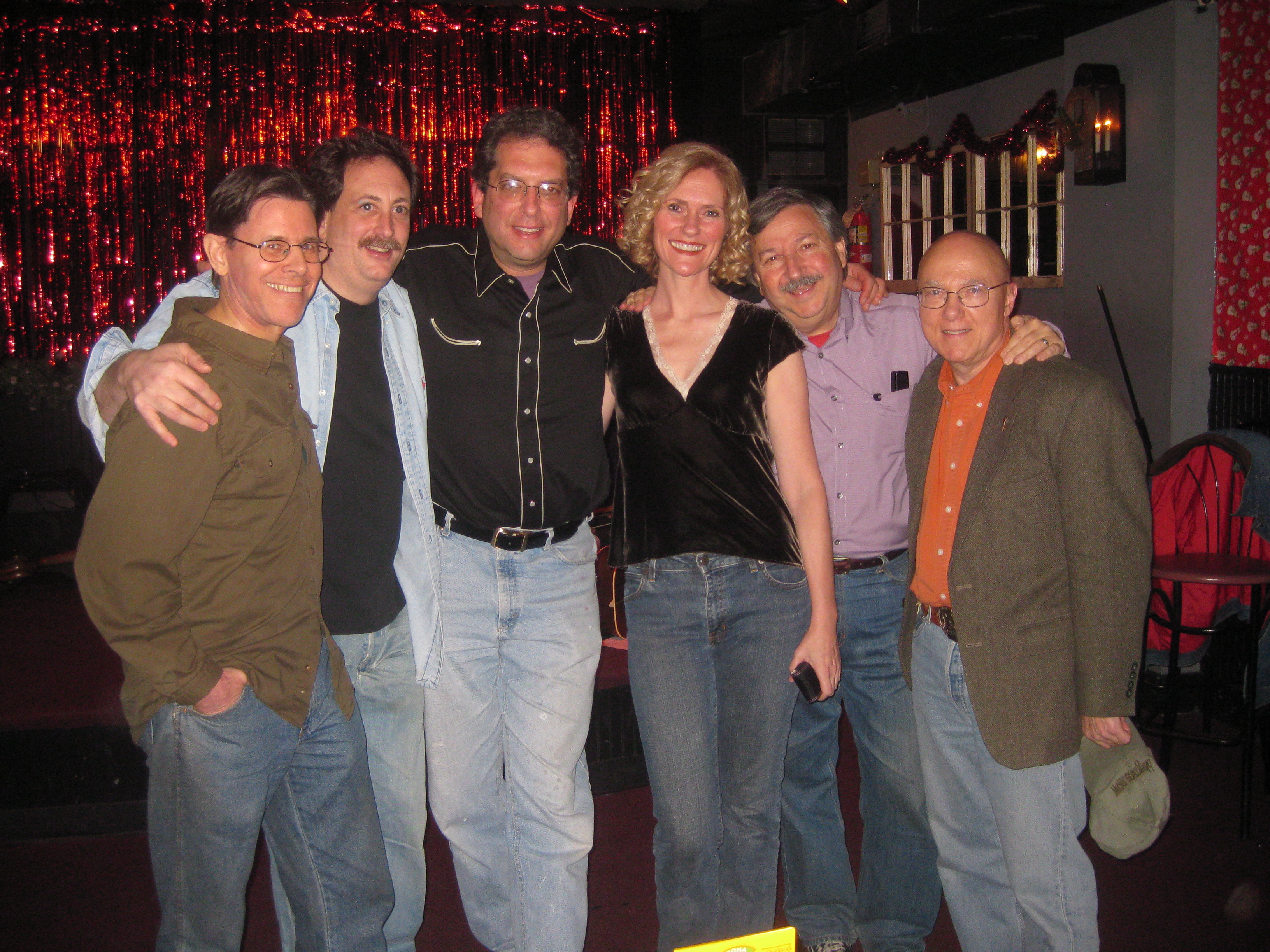 at the Parkside 12/08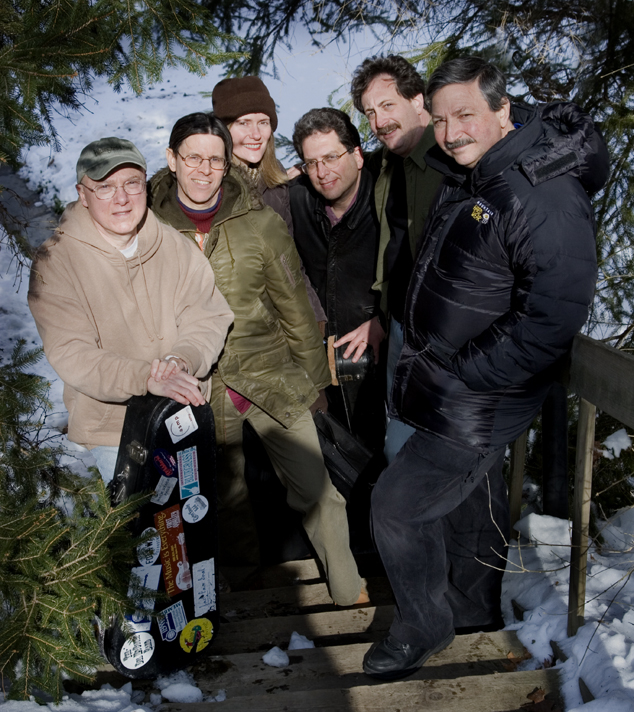 Phil Zimmerman, mandolin, has been a bluegrass musician since his high school days in Chicago. Phil performed with the late, great Ernie Sykes Sr., who sang and played traditional bluegrass in the authentic mountain style, first as a member of the Suffolk County Boys and then as part of the Sykes Boys. Phil also performed for 10 years with Traver Hollow, Connecticut's premier traditional bluegrass band. In 1999, Phil joined with former Seldom Scene member Phil Rosenthal and Grammy-winning Stacy Philips to form Bluegrass Union. He's also a founding member of Last Fair Deal. Phil taught mandolin and banjo workshops at the Joe Val Festival in 2006 and 2007, and is on the faculty at Mandolin Camp North and Banjo Camp North.
Widely known in the New York tri-state area for his outstanding, driving Bluegrass bass playing,
Ethan Kende has been playing Bluegrass music in the New York area most of his life. Mentored with Roger Sprung, one of the driving forces in progressive bluegrass banjo music, Ethan has performed with Roger Sprung and the Progressive Bluegrassers, the John Herald Band, Mike Burns and North Country, and Orrin Star and the Sultans of String, among others. He's performed at The White House, Grey Fox Bluegrass Festival, and Ralph Stanley's Hills of Home Bluegrass Festival.
Ben Freed has been playing bluegrass banjo for over 35 years. His playing is on the soundtrack of the Coen
brothers feature film, "Raising Arizona" and on numerous commercial soundtracks. Among Ben's widely praised three CDs of original banjo instrumentals, Bluegrass Unlimited called Speed of Sound "both infectious and very creative.... Highly recommended," and Peter Wernick called Ben's CD Suite for Bluegrass Banjo "one of the best banjo records, ever." In addition to American Flyer, Ben is a member of Mike Burns and North Country.
Gene Yellin has been playing guitar and singing bluegrass in the New York area for over 35 years. Gene has played with Hazel Dickens, Breakfast Special, Yellin Grass (with his bluegrass banjo-playing brother, Bob), his own band with Michal Shapero, and numerous other bands through the years. He has recorded with Hazel Dickens (Hard Hitting Songs from Hard Hit People, on Rounder) and with Gene Lowinger (former fiddler with Bill Monroe).
Bill Christophersen of New York City has been fiddling for 35 years. He has established himself as one of the best Bluegrass and Old-Time fiddlers in the Northeast, performing widely and taking first-place honors in major regional competitions. In one of his early bands, Fly By Night, Bill toured with Bill Harrell and the Virginians. He has recorded separately with Tom Paley and with John Cohen, both of The New Lost City Ramblers. His playing was called "rich and rugged" by Bluegrass Unlimited. Bill's fiddling with American Flyer is pure straight-ahead Bluegrass, somewhere between the progressive style he plays with Orrin Star and the Sultans of String and the retro Old-Timey style he plays with the Rock-House Gamblers.
The newest member of American Flyer and new to bluegrass, Debra Griner is a New York City singer/songwriter who has performed throughout the city. Her credits include Cash Country: Two Women in Black, a tribute to the late Johnny Cash with Paula Leggett Chase. She is a founding member of the folk band Clementine.