Memories of Doug Tuchman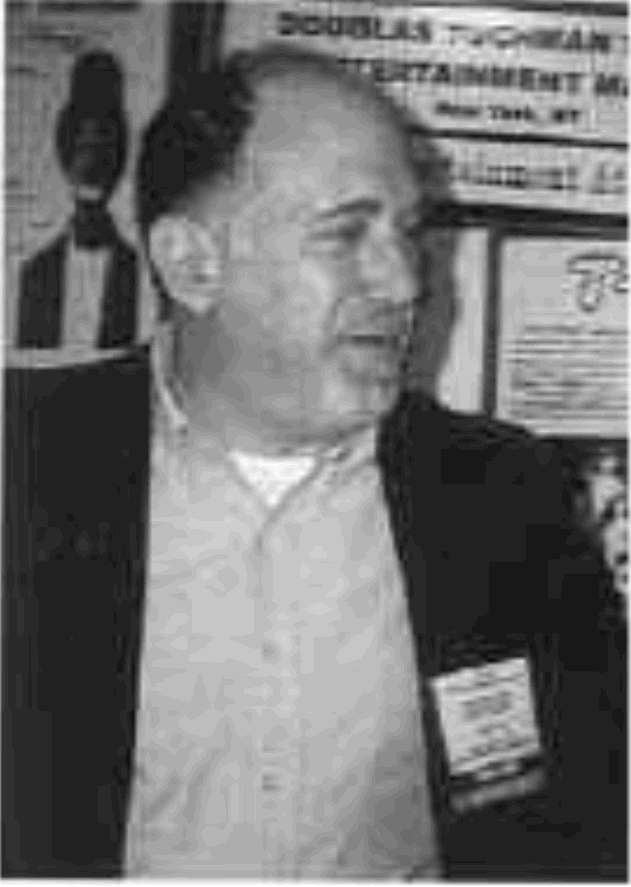 1940-2003
Friends:
See down below for the memorial musical event......
Memories: send your memories of Doug to me if you want them posted....mailto:benfreed@aol.com
Doug Tuchman created a vibrant bluegrass "scene " in New York in the late 60s and 70s.I have great memories of the South Street Seaport, Loeb student center and other venues,where I heard great traditional bluegrass for the first time. As a newbie fiddler,Doug offered me encouragement and many performance opportunities. Musicians often locked horns with Doug over small stuff but it's his passion for the music and his warmth and generosity that I will most remember.....
Marty Laster
.
Doug Tuchman and I have been friends for more than 10 years. Until recently, our association
centered around his "other" life, that of booking wonderful variety entertainment for parks, fairs
and festivals. This past summer Doug declared that it was time to bring some Blue Grass music to
our amusement park here in Tipton, Pennsylvania! On September 27th and 28th, Doug traveled to
Pennsylvania to begin discussions about our 2004 Blue Grass Band and Fiddle weekend. What a
wonderful 48 hours we had together! Ironically, it was not until after his death a week later that
we realized his intimate relationship with Blue Grass music and the many dear friends he had in the
Blue Grass world. We are still going to try and organize our Blue Grass event and if it happens, it
will always provide warm memories of Doug. While here in PA, we had a chance to share a wonderful
meal with Doug and two of his family acts that were working at our festival. God was kind to give
us those happy hours full of laughter and love! Long live the heart and soul of Doug Tuchman. Oh,
and to those of you relating stories of Doug "always picking up the check", that was never the case
with me! We love you Doug.,,,, Tom Riley, DelGrosso's Amusement Park Tipton, PA
I first met Doug, not knowing who he was, in the hallway at a show in '75 (?) that he promoted at NYU's Loeb Student Center. I think I met his friend the late Kathy Kaplan (a fine person and Bluegrass promoter for years) that night as well. I was instructed by Doug to "immediately find a seat" asap so as not to disturb the crowd or band onstage by walking in late. I thought, "who the hell is this guy?" Little did I know that I would be going head-to-head with him on a regular basis just a few years later. We had some great Bluegrass arguments and business discussions in all these years of fighting the Bluegrass music fight here in the northeast. Most of them over a dinner that he would never let me pay for...not even the tip!
There were certainly many other Bluegrass promoters in the Tri-State region through the years. Some were Doug's closest friends in the business, but Doug Tuchman somehow managed to outlive and outlast all the others. He also managed to help keep the music alive in a city full of venues that had no real love for Bluegrass music.
Anyone who knew Doug will have their stories to tell, and some can even be told in public! It's a given that there will be storytelling when you consider the personality of a character like Doug. Sure, Doug Tuchman was opinionated and stubborn at times. He knew exactly how he wanted to present his events. He fought hard to get his way...and almost always did...except at least this one time when he tried to write our set list for us at one of his first Emelin Theater productions!
Say what you will, but above all else Doug only wanted -- ALWAYS wanted -- the best for Bluegrass artists. On his last day he repeated what I'd heard him say many times before; about how frustrated he was that he couldn't get more money for his bands, that the largest percentage of musicians still, in 2003, could not make a better living than they do in this music business he loved so much. Through the years I'm sure most artists and concert attendees never knew how much money Doug had taken out of his own pocket on a bad night to "make things right." I suspect it could easily be in the thousands.
Doug expected a lot from those involved in his productions and from the artists he represented (he was involved in more than Bluegrass music, he also had children's acts which he began promoting sometime in the late 80s.) As far as I know, Doug was one of the first to present children oriented Bluegrass programs at one of his annual summertime events. His best personal moments were seeing 'his' performers receive audience recognition and seeing audience members on their feet screaming & whistling at the end of a show.
Doug was always ready to help out at any event if he could. As a matter of fact, he would insist on it! Sure, I got pissed off at him a couple times when he was a bit forceful about introducing or interviewing someone on one of my festival stages...once in a dumpy T-shirt and shorts! On that occasion I gave-in and let Doug speak/introduce our friend John Hartford. I'm glad I did since that was the last time either of us saw John. Sometimes he would want to make what you knew would be a long pitch about some Bluegrass music related subject between sets...but you know what? I can't ever remember Doug talking about Doug Tuchman onstage...only the artists, events, and Bluegrass history.
Doug loved the history. In recent years he would run vintage Bluegrass video footage prior to his concerts. He was the first (possibly the only one?) to present a first-class "Bluegrass Boys Tribute" concert complete with music and a segment between sets where he arranged a semi-circle of chairs onstage. Wayne Lewis, Tater Tate, Bill Keith, and others talked about life on the road with Bill Monroe. Doug was adamant about this not being a mournful event, but rather a celebration and fun evening for, and about, Bill Monroe and his music. It was all of that at both shows in CT and NY.
I think it's safe to say that the IBMA will continue honoring those regional ambassadors who have sacrificed and dedicated their lives to the music we love. Doug Tuchman should be on the top of that list here in the northeast. I'm certain Doug would be humbled to know that most of us realized all along what a major role he played in this genre's history, and how much he helped generations of musicians and music lovers in our region. When all was said and done, it's clear that Doug was a successful, major player in the business.
The Tri-State area has lost a great Bluegrass Ambassador. >>.......Kevin Lynch
Doug Tuchman will be remembered by the New York Bluegrass, Old-time and Honky Tonk communities. Doug was the thread between these communities over many years. He always had a story about someone, whether they were one of the famous nationally known musicians that he knew and maybe even brought to play in New York, or one of the New York scene's many journeyman and woman of this great music, or even of the youngest newcomers to town. The contests at South Street are legendary. His many concert productions were vital for the New York scene. But his longest running venture was as the host of Honky Tonkin on WKCR for about 25 years. We were lucky to be on one of his last WKCR events, the birthday tribute to Bill Monroe, Roy Acuff and Hank Williams. I have had conversations with Doug, Sheriff Bob and Trip Henderson about Doug's desire to recreate the old style radio shows. That's what he wanted to do during the live music segment on Honky Tonkin once a month. When he asked us to open the birthday tribute show, we really wanted to give Doug the kind of show that he wanted, like the house band with Sheriff Uncle Bob, Trip Henderson, Danny Weiss, Mary Olive Smith, Bob Green and David Gandin do every month. So we asked our friends from the Brazen Head jam in Brooklyn to come along and join us on this WKCR radio show. Spontaneity was the objective and a 12 piece radio band (6 instrumentalist s and 6 vocalist) was ready to go. Our closing song was from the music of THE MONROE BROTHERS, "My Savior's Train". Little did we know that this great gospel song would be the last song we would sing for Doug. We have included a clip of this performance as well as the interview Doug did with us (Kate and Lou)that day, September 13 on our web page www.kateandlou.com . We know that many of you have had similar experiences with Doug Tuchman but for those of you who didn't know him we hope these two clips give you a small idea of Doug's warmth and of the music he inspired people to play on WKCR. ------------ KATE AND LOU
When I was a kid about 8-9 years old Doug ran a bluegrass concert series in New Hyde Park Long Island. There was always pickin' before the shows. Doug took the time to bring me to meet Don Reno. Don and Bill Harrell had me out that night and I sawed off Old Joe Clark. Then some ther pickers came up and played a song I did not know, I whispered to Don that I did not know the song and he said, "I don't know it either". We hung out towards the back of the stage for that one. I'm positive he
knew it but he sure did make me feel better. Over the past few years I have had the privilege of playing several "Tuchman" shows with Buddy Merriam and Back Roads. I had a chance to thank Doug for being such a good friend to a 9 year old kid. I'm pushing 40 and still playing Blue Grass. Doug Tuchman was one of the people who helped me catch the Blue Grass Bug! This music has been a tremendous gift to many people and Doug was instrumental in delivering this gift to New York and the northeast. Thank You Doug. You will live on through this music.
Goodbye Ole Pal,...................Ron Feinberg
I knew Doug for about 6 years or so. I was his banker on the upper east side for several years. I grew up playing bass in NC in various bluegrass bands but had been away from it for a long time after moving to NY. Doug used to come by the bank and sit at my desk and we would talk about Bill
Monroe and the Stanley Brothers. He would always urge me to go out and get involved in music again. After I left the bank, we continued to stay friends and keep in touch. Finally, after a few years of Doug's invites, I stopped by an open jam at WKCR and picked a few songs. I was rusty, but I got through it. Thanks to Doug, I met some great pickers that day and have been gigging regularly since. One of my fondest memories of Doug however was this summer when the Del McCoury Band played at Battery Park. Doug saved a front row seat for me and we got a chance to hang out and talk before the show. I always knew that Doug loved bluegrass, but I didn't really realize what an impact he had until Del himself took a few moments during the show to recognize him and thank him for all he had done for the music he loved so much. It was a very moving moment. Doug will definitely be missed. Thanks for the opportunity to share my thoughts about a good buddy...........jMichael Swinarski
I've known Doug since about 1980. He was producing the concerts at NYU and was doing the South Street Seaport Concerts. Later in the '80's when I started my bluegrass show on WBAI Doug was a
great supporter and was always available to give advice and support. One fond memory was when Bill Monroe was appearing in Long Island. I met Doug at his place on the upper East Side, had dinner with him and his family. Then we went to the concert and he introduced me to Bill Monroe!!!!! I was able get Bill's autograph, which I treasure to this day. I will miss Doug very much....Tom Tortorella

"This is an unbearable loss for the bluegrass community in NYC. Doug was a wonderfully genuine and very giving friend. I remember back to the days in the early 70's when Doug produced many bluegrass shows at NYU's Loeb Student Center. There are also many fond memories of Doug's outdoor bluegrass festivals on Staten Island and the list goes on. Doug's sense of humor was certainly felt by anyone who knew him. He will be greatly missed by us all"...........Jack Baker NYC
I was so saddened by the sudden death of Doug. I knew him over the past five years, but felt like I knew him a lifetime. Even though the band I belonged to, The New York Connection was not Bluegrass, Doug still took the time to give advice and promote the band at NYRA, New York City, etc. Doug and I became close, having lunch every so often and talking about our futures. We spoke once a week, and we always ended our phone calls by saying how good it was to have a friend like you. We said that to each other often.
Doug's sense of humor will be sorely missed, and his caring attitude to all. I wish he were still here, we were planning to have lunch again. I looked forward to those times of laughter and good conversation..........Bob Damato, The New York Connection
I have to remember a twinkle in Doug's eye at just the passing thought, the memory, or the mere mention of good bluegrass. His energy changed the map for many years to read NY=BLUEGRASS and I was proud to have worked with him ever so briefly as a snotnose college kid MC for his events, in between our gigs as alumni of WKCR, which he also used as a beacon for many years to literally spread the gospel...the breakdowns...the songs. I can see him thoughfully looking into the distance remembering some tidbit or a scene involving some luminary, and the sincerity in his passion for music AND making things happen. For a generation of players, I mean an entire generation, his work brought together almost all the string band musicians within a 100-mile radius and beyond, the strongest catylyst where anyone second to him is barely visible. Doug allowed us all in NY to meet, face-off, enjoin, and mostly become lifelong friends...and see our place in a real musical community. I met band mates that have become family over the past 30 years! And music mates by the scores. In terms of our own local history, Doug created an atmosphere that sparked a second coming of the essence of what revival music was all about, making South Street the new Washington Square. And with an eye on the future as well gave venue for the music to thrive for years to follow. If there's ever a way to measure a life's work, just look around at all the people you have known and loved through meeting at one of Doug's events. Doug truly did magic and made NY a whole lot better than the way he found it................Pat Conte

What always struck me about Doug was his intense love for the music that he promoted. Let's face it; no one gets rich championing Bluegrass and traditional music in New York City. One has to love was he's doing to plug away at it for thirty-odd years. Doug loved music and musicians.
Doug's enthusiasm and his zealous promotion of Bluegrass and traditional music in our town will be sorely missed. The scene here won't be the same without him. ....Marc Horowitz

Doug, Your selfless efforts brought so many people together, thank you for that......Ben Freed
I first met Doug when I was about ten years old and he was promoting my Mom's bluegrass band "Brooklyn Union Grass Co."
Throughout the years I'd see him here and there, always surrounded by musicians, always taking the time to give advice or kind words.
What a shock...He will be sorely missed ...-Deena Smith
For those of you who would like to send condolence cards to Doug Tuchman's
daughter, here is where to send them:
Ms. Lauren Tuchman
417 East 89th Street
New York, NY 10128
In lieu of flowers, the family has requested that you might send tax-deductible donations to the following organizations (make sure these gifts are designated, or they will get put into the general funds):
The Emelin Theatre (In Memory of Doug Tuchman)
Library Lane Mamaroneck, NY 10543
or
WKCR-FM (In memory of Doug Tuchman for "Honky Tonkin'")
Columbia University 2920 Broadway, Mail Code: 2612 New York, NY 10027
Back to the New York City Area Bluegrass Music Scene